COOL CITY ART AUCTION
Mark your calendar for MARCH 27, 2020!
to benefit:
Greater Flint Arts Council
Buckham Gallery
Flint Handmade
Flint Public Art Project
Art at the Market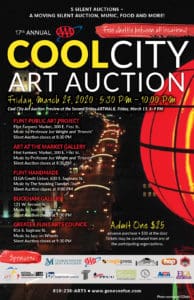 GFAC invites other organizations for collaborative fund raising. This stellar event features silent auctions of original art from multiple organizations at multiple locations downtown Flint. GFAC procures sponsors for marketing and entertainment. Every location features great food, beverages and live music. Each organization keeps their ticket sales and proceeds from their auctions.
EXHIBITIONS
GUIDELINES FOR THE 2020 ALL MEDIA GFAC MEMBERSHIP EXHIBITION/COMPETITION
January Artist information
GFAC gives local artists and students of art an opportunity for self expression and community recognition.
GFAC will coordinate exhibits jurying all exhibiting artists by a panel of local artists. The panel changes each year to ensure the diversity of exhibitions offered. GFAC will also schedule student exhibitions. The "Young Artists Today'" regional juried high school students exhibition and the University of Michigan-Flint exhibition are staples with GFAC. To add to the excitement of GFAC studio exhibition receptions, we pay local musicians to play during these events. This gives local musicians a chance to promote themselves and further diversifies GFAC's involvement in the performing arts. GFAC Exhibitions open on the Second Friday of each month during ARTWALK and continue until the first Friday of the following month.

Greater Flint Arts Council was recently featured on Michigan Homes, one of the top sites for Flint real estate. Check out the article here: Promoting the Arts in Flint.
__________________________________________________________________________
GREATER FLINT ARTS COUNCIL
ANNOUNCES THE WINNERS OF
THE 2019 YOUNG ARTISTS TODAY
TRI-COUNTY HIGH SCHOOL ART COMPETITION AND EXHIBITION
Sponsored by Mott Community College Studio Art and Graphic Design Programs
JUDGES:
Tim Kranz, Art Instructor at Mott Community College
Jim Shurter, Coordinator-Graphic Design at Mott Community College
First Place: Brice Katich
Title: Coral Epiphany
Media: Ceramics
School: Lapeer High School
Teacher: Jeff Bolzman
Second Place: Meghan Powell
Title: Downward Spiral
Media: Water Color & Ink
School: Lake Fenton High School
Teacher: Tiffany Sudia
Third Place: Alison Slackta
Title: Hands
Media: Ink
School: Byron Area High School
Teacher: Jamie Anderson
Honorable Mention: Dalton Lane
Title: Swan
Media: Paper
School: Almont High School
Teacher: Lisa Wright
Honorable Mention: Jane Lindsay
Title: Reflections
Media: Colored Pencil
School: Lapeer High School
Teacher: Amy Linton
Honorable Mention: Madison Hopkins
Title: Twin Dragons
Media: Colored Pencil
School: Lake Fenton High School
Teacher: Tiffany Sudia
Honorable Mention: Maria Carr
Title: Walt
Media: Colored Pencil
School: Lapeer High School
Teacher: Amy Linton
Honorable Mention: Kelsey Turgeon
Title: Freddie Mercury
Media: Acrylic
School: Davison High School
Teacher: Ryan Kelsey
Dean's Choice Award given by Mary Cusack, Dean of Fine Arts and Social Sciences Division, MCC
Jessie Betts
Flint Southwestern Classical Academy
Teacher: Mary Kachman
ELLIGIBILITY: High School Students 9-12 Grades from Genesee, Lapeer and Shiawassee Counties.
15 HIGH SCHOOLS PARTICIPATING:
Almont High School (Lapeer County)
Bentley High School (Genesee County)
Byron Area High School (Shiawassee County)
Clio High School (Genesee County)
Davison High School (Genesee County)
Faithway Christian Academy (Genesee County)
Flint Southwestern Classical Academy (Genesee County)
Lake Fenton High School (Genesee County)
Lakeville High School (Genesee County)
Lapeer High School (Lapeer County)
Michigan School for the Deaf (Genesee County)
Powers Catholic High School (Genesee County)
Swartz Creek High School (Genesee County)
The Valley School (Genesee County)
Youth Arts: Unlocked (Genesee County)
"We are amazed at the broad range of talent among our mid-Michigan high school art students;" states Greg Fiedler, President and CEO of Greater Flint Arts Council.
"The quality of work keeps increasing each year, making this a very difficult show to judge;" states Tim Kranz, Mott Community College Art Instructor.
The exhibit continues through Friday, May 3, 2019. Greater Flint Arts Council (GFAC) gallery hours are 9:00AM to 5:00PM Monday through Friday. GFAC is located in beautiful downtown Flint at 816 S. Saginaw Street.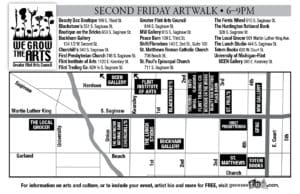 SECOND FRIDAY ARTWALK
Organized by the Greater Flint Arts Council Public Relations Committee, this program is a collaboration between over 20 businesses and cultural organizations in downtown Flint. We coordinate open house receptions, free to the public to promote the diversity of gallery offerings in our downtown. Locations vary seasonally. ARTWALK takes place on the second Friday of every month, 6:00PM to 9:00PM. Maps are available at Greater Flint Arts Council. Parking is available throughout the downtown area.
FLINT JAZZ FESTIVAL
Produced by GFAC for the past twelve years, this thirty-four year old festival features performances by local, regional and international jazz musicians. The atmosphere is completed by food, beverage and hard goods vendors. The dates for the next Flint Jazz Festival are July 25-28, 2019. JAZZWALK July 25 – downtown venues TBA – Riverbank Park July 26-28. 2019 Headliners are: Friday 7/26 Banda Magda, Saturday 7/27 NAJEE, Sunday 7/28 Tim Bowman (Sr), playing at 7:00PM daily.
2019 FULL SCHEDULE FOR FLINT JAZZ FESTIVAL
Friday, July 26
5:30-6:30 Kevin Collins, African Jazz
7-8:30 Banda Magda
Saturday, July 27
1:30-2:30 Smooth Operation Project
3:00 – 4:00 Gwen Pennyman Hemphill
4:30 – 5:00 Tapology
5:30 – 6:30 Carl Cafagna
7:00 – 8:30 Najee
Sunday, July 28
2:00- 3:00 Organissimo
3:30-4:30 Jazz Cycle
5 – 6:30 People's Jazz Band
7:00 – 8:30 Tim Bowman
JAZZNITE
Local jazz musicians play live at the White Horse Tavern, downtown Flint on the 4th Thursday of each month, 5:00PM – 7:30PM. Profiles in Creativity
http://www.mlive.com/entertainment/flint/index.ssf/2012/01/jazz_it_up.html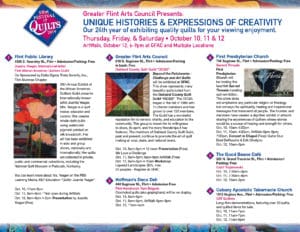 FLINT FESTIVAL OF QUILTS
One thousand quilts are shown annually on the second weekend in October at multiple venues in and around our city center. Vendors, lectures and social activities round out the weekend. The dates for the next Flint Festival of Quilts are October 10-12, 2019
PARADE OF FESTIVALS
GFAC is able to fund and/or promote festivals in the downtown flint area during the summer months through the Parade of Festival project made possible by funding from the Charles Stewart Mott Foundation. The Parade of Festivals is serving 20 local events.
2019 Parade of Festivals Schedule.
TUNES AT NOON FESTIVAL
An eclectic line-up of local musicians provide lunchtime concerts in downtown Flint during the summer months.
The dates for the next Tunes At Noon Festival are July 8 – August 16, 2019.
GREATER FLINT ARTS COUNCIL
ANNOUNCES SUMMER SCHEDULE
FOR THE 20TH SEASON OF
TUNES AT NOON !!
Band / ( Music ) Date
Glenn Holcomb Project (Variety) 8-Jul
Mary Ann Fisher (Celtic Harp) 9-Jul
Corner Boys (Jazz) 10-Jul
Shani Womack & Friends (Inspirational) 11-Jul
Larry B & The Boomers (Rock) 12-Jul
Jimmy Dill (Song Stylist) 15-Jul
Mott Jazz Combo (Jazz) 16-Jul
Standard Issue (Jazz) 17-Jul
Karley Davidson (Variety) 18-Jul
Sherry Vachon &
Terry Clark Music (Jazz) 19-Jul
OVACiiR (Jazz) 22-Jul
Reichlin Small Group (Jazz) 23-Jul
Stephenie Monear (Jazz) 24-Jul
Gwen Pennyman-Hemphill (Jazz)
& Friends 25-Jul
Bennie Poole (Jazz) 26-Jul
Sweet Willie Tea (Blues) 29-Jul
Quincy Dunn (Gospel) 30-Jul
Free 2 B (Variety) 31-Jul
Phil Young (R&B) 1-Aug
Raphael Banks Set (Jazz) 2-Aug
Greg Ellis Band (Blues) 5-Aug
Kevin Collins Drum Set (African Drums) 6-Aug
Blu Mykals (Jazz) 7-Aug
Terence Grundy & Friends (Gospel) 8-Aug
Mike Espy Group (Jazz) 9-Aug
Dave Huber (Jazz) 12-Aug
Maggie Hasspacher (Jazz/Folk) 13-Aug
Sherwood Pea (Jazz) 14-Aug
Eddie Blues Barney &
Blueshouse (Blues) 15-Aug
Isaac Ryder Band (Neo Soul) 16-Aug
All performances will take place in beautiful Willson Park
in downtown Flint, 11:45AM – 1:15PM daily.
(Rain location is Greater Flint Arts Council Gallery, 816 S. Saginaw St.)