EXHIBITIONS
GFAC gives local artists and students of art an opportunity for self expression and community recognition.
GFAC will coordinate exhibits jurying all exhibiting artists by a panel of local artists. The panel changes each year to ensure the diversity of exhibitions offered. GFAC will also schedule student exhibitions. The "Young Artists Today'" regional juried high school students exhibition and the University of Michigan-Flint exhibition are staples with GFAC. To add to the excitement of GFAC studio exhibition receptions, we pay local musicians to play during these events. This gives local musicians a chance to promote themselves and further diversifies GFAC's involvement in the performing arts. GFAC Exhibitions open on the Second Friday of each month during ARTWALK and continue until the first Friday of the following month.
GFAC Gallery hours are 9:00 AM – 5:00 PM Monday through Friday
2023 EXHIBITIONS – (*ARTWALK 6-9PM Second Friday every month)
OPEN/CLOSE
*Jan 13-Feb 03
GFAC Member Artists Exhibition
*Feb 11 – Mar 04
African American Artists of Michigan Exhibition
*Mar 11 – Apr 01
Flint Artists Market Guild
*Apr 08 –May 06
Young Artists Today Tri-County High School Art Show / Competition
*May 13 – June 02
University of Michigan-Flint Student Exhibition
*Jun 09 – Jul 07
Michigan Artists Invitational
*Jul 14 – Aug 04
Michigan Artists Invitational
*Aug 11 – Sep 01
Michigan Prisoner Art Traveling Exhibition
*Sep 08 – Oct 06
Immersive Art Experience
*Oct 13 – Nov 03
Exhibition of Quilts
*Nov 10 – Dec 01
Claire Mott White Michigan Clay Artists Exhibition
*Dec 08 – Dec 22 / Jan 02 – 05, 2024
Michigan Water Color Society Traveling Exhibition
__________________________________________________________________________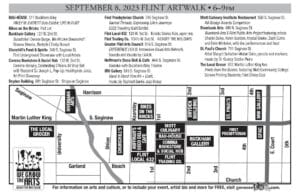 FLINT ARTWALK
Organized by the Greater Flint Arts Council Public Relations Committee, this program is a collaboration between over 20 businesses and cultural organizations in downtown Flint. We coordinate open house receptions, free to the public to promote the diversity of gallery offerings in our downtown. Locations vary seasonally. ARTWALK takes place on the second Friday of every month, 6:00PM to 9:00PM. Maps are available at Greater Flint Arts Council. Parking is available throughout the downtown area.
FLINT JAZZ FESTIVAL
Produced by GFAC for the past twenty five years, this forty two year old festival features performances by local, regional and international jazz musicians. The atmosphere is completed by food, beverage and hard goods vendors. The dates for the next Flint Jazz Festival are July 18-21, 2024. JAZZWALK July 18 (free admission) – downtown venues are White Horse, Cork, Market Tap, Xolo, Soggy Bottom and Hilton Garden Inn – Riverbank Park July 19 -21, 2024 ($10 per day or $20 weekend pass – cash only at the gate).
JAZZNITE
A partnership between GFAC and The White Horse Tavern, local jazz musicians play live at the White Horse Tavern, downtown Flint on the 4th Thursday of each month, 5:00PM – 7:30PM.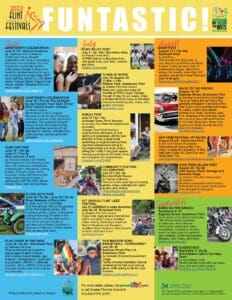 PARADE OF FESTIVALS
GFAC is able to fund and/or help promote festivals in the downtown flint area during the summer months through the Parade of Festivals project made possible by funding from the Charles Stewart Mott Foundation. The Parade of Festivals is serving 17 local events.
TUNES AT NOON FESTIVAL
An eclectic line-up of local musicians provide lunchtime concerts in downtown Flint during the summer months.
The dates for the next Tunes At Noon Festival are July 8 – August 16, 2024. All performances will take place in beautiful Willson Park in downtown Flint, 11:45AM – 1:15PM daily. (Rain location is Greater Flint Arts Council Gallery, 816 S. Saginaw St.)