Greg Fiedler, President and CEO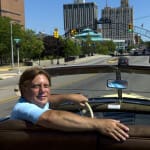 , has been CEO of GFAC for 25 years. He is responsible for all operational aspects of GFAC. Greg has 39 years of experience in corporate management and administration, 31 years of experience in non-profit board management, and has been a performing artist for 52 years. He has raised funds for more than three dozen non-profit organizations. Greg is deeply devoted to the city of Flint, where he has lived all his life, except while attending the University of Michigan-Ann Arbor where he completed a BA with a major concentration in Psychology and minor concentrations in Theater (Professional Theater Program) and Sociology.
Tanya Lane, Development Director, has more than 20 years of experience in development, event planning, and marketing. She was previously at Sloan*Longway where she developed the membership program. Prior to Sloan*Longway, she was at the Flint Area Convention& Visitors Bureau where she was the Executive Director for Back to the Bricks and Bikes on the Bricks. She has also worked at Fair Winds Girl Scout Council and the Flint Institute of Arts. Tanya earned her Bachelor of Journalism degree from the University of Missouri and is a life-long resident of Flint.
Harold Hill, Operations Manager, has worked for GFAC for the past 4 years in a number of roles. He is a retired school teacher and a former non-profit executive director. Harold is currently serving on the national board for his fraternity.
Suzanne Lossing, Regranting Coordinator, recently completed her Masters Degree in Arts Administration from the University of Michigan-Flint. She began an internship with GFAC to help with the implementation phase of the Flint Cultural Plan and assist the GFAC Board in their plans for fund raising and development. Prior to her work at GFAC, Suzanne Lossing held a number of administrative positions at Mott Community College including 15 years as Scholarship and Programs Coordinator.
Equal Employment Opportunity
It is the policy of the Greater Flint Arts Council to provide equal employment opportunity to all employees and applicants for employment. No person shall be discriminated against in employment because of gender (including pregnancy), gender identification (an individual's internal sense of one's own gender), sexual orientation (determined by whom an individual is sexually attracted to and also has the potential for loving), race, color, ethnic or religious background, descent or nationality, disability (including past, present, or future physical, intellectual or psychiatric disability, learning disorders or disease – for example, HIV), marital status, age, height or weight.
This policy applies to all terms, conditions, and privileges of employment, placement, transfers, internal promotions, training, opportunities for advancement, terminations, compensation and benefits, relationships with outside vendors and customers, use of contractors and consultants and in dealing with the general public.
It is the responsibility of all Greater Flint Arts Council employees to contribute to the Council's equal employment opportunity work environment. If you have any questions about this policy or its application, please contact the President/CEO.
The Greater Flint Arts Council complies with all Federal and Michigan laws prohibiting discrimination on the basis of handicap or disability. The law requires employers to make reasonable accommodations to handicapped applicants and employees where the accommodation does not impose an undue hardship on the employer.
Handicapped employees and applicants may request an accommodation by notifying the Council in writing of the need for accommodation within 182 days of the date the individual knows or should know that an accommodation is needed. Failure to properly notify the Council may preclude any claim that the employer failed to accommodate the individual.