Greater Flint Arts Council is celebrating community arts and culture with our new public radio station, WFAH 102.1 LPFM. Tune in for great music and conversations about the importance of arts and culture in our community. Stay tuned for the months and years ahead as we add programs showcasing the abundance of arts and culture in the greater Flint region.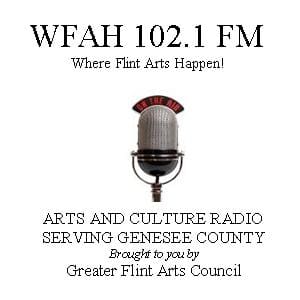 The WFAH live stream is made possible
by generous funding from
the Arthur G. Bishop Charitable Trust.
Or listen to us using our streaming link
https://ais-edge50-live365-dal02.cdnstream.com/a82829
WFAH Live Stream Schedule coming soon…
WFAH Radio Broadcast Schedule
2:00am – 7:00am Jazz Potpourri
7:00am – 9:00am World Music with host Mark Corrigan
9:00am – 12:00pm Jazz Potpourri
12:00pm – 12:30pm Arts Armchair With Greg Fiedler, Tim Jagielo, or Brendan Whitman
12:30pm – 3:00pm Jazz Potpourri
3:00pm – 5:00pm Happy Hour Jazz (Traditional) with host Greg Fiedler
5:00pm-6:00pm Jazz Potpourri
6:00pm – 8:00pm Jazz Standards with host Brendan Whitman
8:00pm – 10:00pm Blues Highway with host Melissa Boyd
10:00pm – Midnight Jazz Fusion with host Harold Hill
Midnight – 2:00am Sunday – Thursday  Smooth Jazz
Midnight – 2:00am Friday & Saturday – Electronic Music with DROP FEST Producer, Jerin Sage