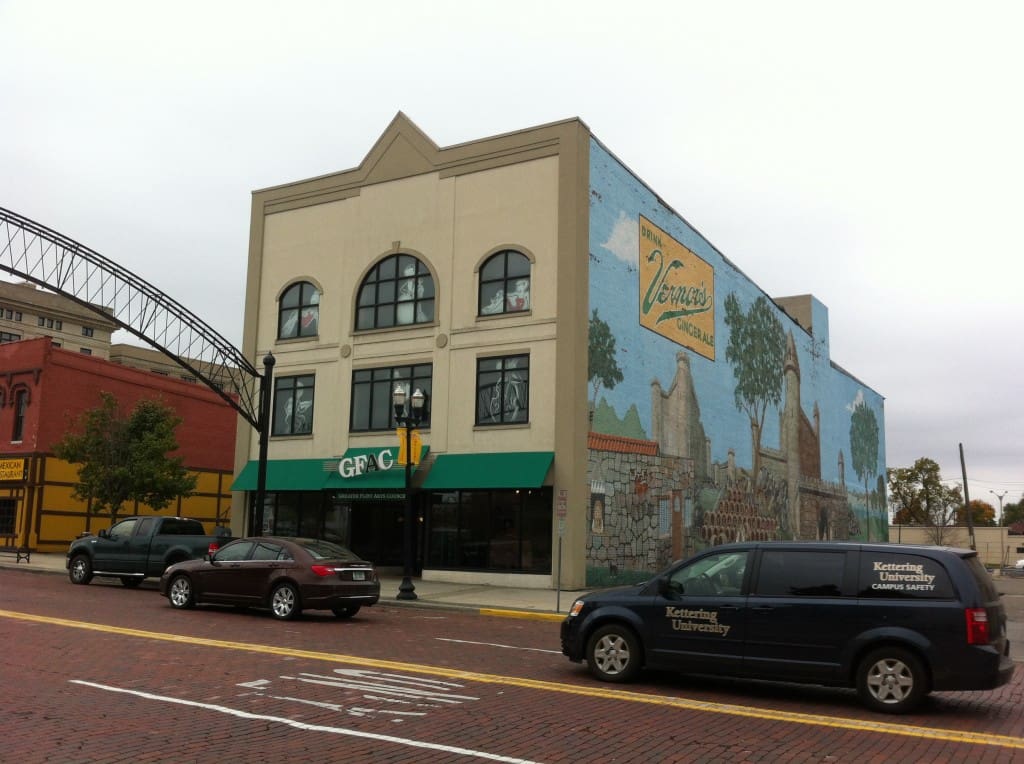 OUR MISSION
The Greater Flint Arts Council (GFAC) is a non-profit organization whose purpose is "to be a catalyst of, and advocate for, increased artstic and cultural enrichment in our ethnically diverse community." The Council strives to promote and celebrate the arts-building new partnerships and to lay foundations of cultural growth for all the arts in our community. Our primary service area is Genesee County. We also serve communities adjacent to Genesee County that are part of the greater Flint region.
Located in the heart of downtown Flint, GFAC is a regional regranting agency for Michigan Council for the Arts and Cultural Affairs, currently regranting in Genesee and Lapeer Counties. We provide many other services for the arts, from arts information services through newsletters, to providing new artists with both rehearsal space and a community voice heard by everyone up through the national government. GFAC is also a presenter of the arts, producing annually many exhibitions, concerts, festivals and events.
Greater Flint Arts Council (GFAC) programs and services are designed to engage the community in creative processes, support the work of Michigan artists, develop sustainability in arts agencies throughout Genesee County and bordering communities, aid in the development of new programs and new careers in the arts, increase awareness of the vast number of artistic/cultural offerings, enhance arts education at all levels, stimulate local economic growth and showcase to the nation the beauty and livability of the greater Flint community. GFAC provides support services and we are also presenters as we strive to create professional venues for Michigan artists to build their careers and enhance economic development. At GFAC we believe that emerging art can transform our community and we can be instrumental in creating an environment where art can emerge.
The Greater Flint Arts Council has a long history of offering quality art and cultural programs to the greater Flint community. Through assessment and evaluation, these programs are tailored to the needs of local artists, arts and cultural agencies, educational institutions and members of the community who want to be involved in arts and cultural programs. With the involvement of concerned citizens for the arts in greater Flint, local artists, arts and cultural agencies, educational institutions, a committed Board of Trustees and competent staff, the Greater Flint Arts Council will continue to provide valuable programs and services to our community.
GFAC MEMBERSHIP
Membership offers a newsletter of art-related events, festive opening receptions, Special Events, Discounts on original works of art; and for Artist/Members, a listing in the Artist's Directory, client referrals and exhibition opportunities.
GFAC Members ARE the organization. We welcome you to join, be active and prosper. We cannot accept cash payments online. Please print this form and send it along with your check to the Greater Flint Arts Council, 816 S. Saginaw Street, Flint MI 48502.
BOARD OF TRUSTEES

Charles Boike, Secretary
Attorney
Kimberly Cole
VP Sales & Engineering
James Draper
Retired Engineer/Artist
Greg Fiedler, Secretary
GFAC President and CEO
Louis Hawkins
Retired Corporate Administrator
Gary Jones
Musician
Laura McGuire
Artist
DeWaun Robinson
Community Activist
Diane Wolbert
Retired Educator
Thomas Webber, Chairperson/Treasurer
Franklin Benefit Solutions
VOLUNTEERS AT THE GREATER FLINT ARTS COUNCIL
Thanks to our great volunteers, each year we are able to produce outstanding festivals during the summer months, 12 gallery exhibitions and the monthly Flint ARTWALK. Yet, to keep from wearing out our volunteers, we are always in need of those who are interested in lending a hand. Whether you are in a group or organization, or an individual with a few hours to spare, we'd like to hear from you. Are you interested in becoming a volunteer group leader to help us in organizing any of the volunteer programs or would you like to volunteer for a specific task? Would you like to meet new people and share skills? Would you like to learn Event Planning? We have forms at the Arts Council that you can fill out to let us know your preferences or you can email Harold Hill, Operations Manager, at harold@greaterflintartscouncil.org. Find out about the opportunities that are available to you. Call 810.238.2787 for more information.
GREATER FLINT ARTS COUNCIL HISTORY
Prior to his death in 1963, President John F. Kennedy laid the ground work for a national agency which would foster the growth of arts and cultural programs throughout the United States. Tragically, President Kennedy did not live to see his dream fulfilled. Posthumously and in his honor, Congress founded the National Endowment for the Arts. Within a couple years individual states responded with the establishment of state arts councils and in 1965 Michigan opened the Michigan Council for the Arts. Soon after, local municipalities responded by forming local arts councils. There were local arts council movements prior to the 1960's, however the 1960's movement was the strongest and most of the arts councils in Michigan were founded in the late 1960's.
The City of Flint was soon to follow when a local group of citizens established Greater Flint Arts Council, incorporated on October 11, 1967. Among them were Forest Alter, Ruth E. Steffe, Ronald H. Tali, Werner Graf, Helen Hardy Brown and Arthur H. Sarvis who all signed the charter and became the first GFAC board of trustees. Ruth E. Steffe is listed as the first Resident Agent. We assume she was also the first GFAC Board President. Assets were listed as $100 cash. With a mission of "the coordination, education, promotion and development of cultural activities in the City of Flint, Genesee County and surrounding areas," they met in private homes and buildings operated by Flint Community Schools. The first registered office of GFAC is recorded in 1973 as 803 Citizens Bank Building. We assume it was the business office of GFAC President, Mourice D. Frost. In 1977 their office was listed as 924 East Sixth Street presumably the business office of then President, Ann Elgood. Shirley McNally became GFAC President in 1980. In 1984 Jack LeSage became president.
In the mid 1970's Greater Flint Arts Council hired their first Director, Lynne Smith who continued on to become the Director of the Michigan Association of Community Arts Agencies (MACAA). She was succeeded by Sarah Warner who helped GFAC open their first store front gallery at 420 S. Saginaw Street, the former home of Roberts David Allan clothing store. It was during this time in the early to mid 1980's when GFAC entered into some extensive long range strategic planning. We produced two conferences in 1981 and again in 1985 called "Where's Art?." It was during the Where's Art Conferences that our current mission was forged…"to be a catalyst of and advocate for increased artistic and cultural enrichment of our ethnically diverse community." GFAC would focus our energies on community cultural assessment, cultural diversity, communications, advocacy, arts education, technical assistance, funding and exhibitions. An involved group of artists converged at GFAC at this time and many new projects were seen including BRIX magazine, post cards, coloring books, cultural directories and an artist directory. Also at this time other agencies began to incubate from within the membership and the Buckham Alley Theater and Buckham Gallery were conceived. Sarah Warner was hired as Development Manager for the Flint Institute of Arts and Jan Murdock succeeded Sarah as Executive Director of GFAC in 1990. The Arts Council was moved to a storefront space in the Capitol Theater Building, 130 E. Second Street. Formerly the development professional for GFAC, Jan began many innovative new programs including Regional Regranting, ARTSHARE, City Arts Team and Alley Oop, a summer festival in Brush Alley. Jan Murdock took a position with the Flint Community Schools in 1993 and the search for a new director began.
The second half of the year 1993 found Greater Flint Arts Council without a director. The GFAC Board of Trustees appointed one of their own, David Martin, as Interim Director and launched an employment search. Mr. Martin was a human resource consultant and in the months following he formalized many of the Arts Council's policies and practices. After months of receiving and reviewing resumes, the GFAC Board hired Greg Fiedler as Executive Director and he took office on August 13, 1993. The GFAC offices were in the front of the Capitol Theater Building on East Second Street in downtown Flint.
Mr. Fiedler made his living in business, and had spent 17 years with Hamady Bros. Food Markets, Inc. His last position with Hamady was Manager of Human Resources and Training. He also had education in music and theater and was an experienced performer. He was well known in the arts community as the Chairperson of the Board of Directors for Flint Community Players 1991 to 1997. He had a love for musical theater and by the early 1990's Greg had performed on all the stages of Genesee County.
Greg first joined GFAC as a member in 1978 when he returned from college in Ann Arbor, Michigan. He was familiar with the Arts Council and their mission. At the time of his hiring there was one full time staff person, Lorinda Shepard who served as Administrative Assistant. There were several part time contracted staff: Trish Dillon, Re-granting Coordinator, Marianne Bernard, ARTSHARE Coordinator and Kerry Moore, City Arts Team Coordinator. These were the major programs of Greater Flint Arts Council at the time. ARSHARE and the City Arts Team were K-12 arts education programs which brought youth together with professional artists for learning experiences. GFAC re-granted funds for two programs at the time: Michigan Council for Arts and Cultural Affairs Regional Re-granting and City of Flint State Equity Re-granting. GFAC represented Genesee, Shiawassee and Lapeer Counties for the MCACA Regional Re-granting program. Under this program, arts projects were funded throughout those three counties. The City of Flint received State Equity Funds annually and GFAC was awarded dollars to fund capital projects within the city limits.
Greg Fiedler immediately began working with the Arts Council Board and Staff to re-institute programming that had been suspended during the interim, increase patronage of existing programming and assessing the needs of the community for new programming. Mr. Fiedler's greatest challenges as a new director were: Marketing the Arts Council so the general public would be familiar with their name and programs, and stabilizing funding to alleviate the swings from feast to famine which had marked their history. GFAC signed with the Flint Executive Service Corps for Board Development and Strategic Planning.
In 1994 and 1995, GFAC continued to expand on existing programming. The Michigan Council for Arts and Cultural Affairs began an expansion of the Regional Regranting Program in which GFAC was the representative for Lapeer, Shiawassee and Genesee Counties. We were also providing much needed physical improvements to art spaces by representing the City of Flint as a re-granter for the State Equity Program. One example which comes to mind were the building of an actors dressing room and lobby improvements at the Buckham Alley Theater.
At this time GFAC was in the final stages of strategic planning and board development. Some of the key issues which were being discussed were the forming of a Public Relations and Marketing Committee as a standing committee of the Board and expansion of GFAC's physical space. Unknown to us at that time, fate would soon be kind to us through an unfortunate disaster at a local downtown business.
One of the issues discussed through the strategic planning process was that GFAC did not have sufficient multi-purpose space to implement existing programs. We also needed office space where personnel could work without distraction. We could not afford market rates for rent. We had almost no assets and no cash reserve.
In Spring of 1995 a fire broke out in the Peerless Furniture Store at 816 S. Saginaw Street. The Peerless Store occupied two buildings side by side. One of the buildings burned to the ground. The remaining building had a mural painted on the side of it which was cherished by generations of local citizens, the Vernors Mural. In September of 1995, the Peerless Company announced its intentions to build a new store in the fashionable shopping district in Flint Township. The building on Saginaw Street would be demolished. Lost would be the famous Vernors Mural painted by local artist, John Gonsowski in 1932. The GFAC Urban Walls Committee had the mural restored in 1979 using Mr. Gonsowski as a consultant. After several weeks of community outcries to save the mural on the side of the building GFAC called a town hall meeting to measure community support and to dialogue about possible solutions. More than eighty people attended the town hall meeting and all those present committed to serve. It was decided unanimously that the best way to save the Vernors Mural would be to purchase the building and make it the permanent home of Greater Flint Arts Council.
With strong community support, GFAC began a campaign to "save the Gnomes' home." We approached the owners of the building and entered into an agreement to raise the full purchase price by March of 1996. Committee members raised half of the funding and the other half was given as a match from the Cadbury Beverage Company, the distributors of Vernors products. Then came the big question: "Where would a small non-profit with no assets find more than $300,000 for building renovations?" We put the Gnomes to work and they began to unravel a plan which would lead us to success.
We discovered a program offered by HUD through the City of Flint called the Community Block Development Program (CDBG). In order to gain a CDBG award, we would have to convince a group called the City Wide Advisory Council (CWAC) that our project would greatly improve the lives of community residents. To our delight, the CWAC, the Mayor of Flint, Woodrow Stanley and the Flint City Council lead by President, Scott Kincaid all agreed that GFAC could be a gem for the City of Flint with expanded facilities in the heart of downtown Flint. We were awarded nearly $200,000 over a three year period.
The year 1996 also yielded a great surprise on the state government level. The State of Michigan ended the year with a large surplus of funds and Governor John Engler awarded the Michigan Council for Arts and Cultural Affairs (MCACA) ten million dollars for capital improvements to art spaces throughout the state of Michigan. Also to our delight, MCACA thought Flint could use an expanded arts council and they awarded $114,000 to GFAC.
To make a long construction story short, GFAC opened with 6,000 square feet of art space, offices and work space, to the public with a packed house of more than 400 visitors in March of 1998. A new era for GFAC had begun. Due to several years of daily reports on the project in the news, our marketing dilemma was solved. Greater Flint Arts Council was now a household word throughout Genesee County.
With their new status as a property owner the year that followed brought great change to Greater Flint Arts Council. The success of the project to save the Peerless Building and the constant media attention shaped a new era of public opinion about GFAC and their ability to serve our community. Attendance at GFAC produced events increased dramatically. "Ask the Arts Council" became a staple response to many inquiries and GFAC staff were asked to serve on many boards and committees. Resources became available to help GFAC become the leader in the arts community.
In 1998, a local art teacher and GFAC Trustee, Joy Eve Allaun passed from breast cancer. Her love for GFAC inspired her to will $250,000 to the organization to seed their first endowment fund. The funds were invested at two major banks and the Community Foundation of Greater Flint. The increase in assets changed the way financial institutions viewed GFAC and changed the way we conducted business. Our future was secure and our funding rollercoaster was solved with a revolving line of credit.
William White, President of the Charles Stewart Mott Foundation was impressed with how GFAC, an agency with no assets and limited resources, could gain community support to purchase and renovate a vacant building downtown without funding from the foundation. He approached Greg Fiedler to serve on a team to study downtown revitalizations around the United States and help formulate a plan for the successful revitalization of downtown Flint. The results of that teamwork was the founding of the Uptown Re-investment Corporation. Uptown immediately gained a State of Michigan grant and purchased eight vacant properties on Saginaw Street. To help Uptown, local developers formed an LLC to partner in the rehabilitation of the vacant properties. Work began and Uptown took on the downtown streetscape as a starting point to improve the overall look of downtown as they began to transform vacant properties into centers of community vitality.
In response to the efforts of the Uptown partnership, GFAC created programs to enhance life for the community and bring positive attention to the downtown Flint region. In 1999 GFAC launched the Parade of Festivals project. This project would market existing festivals in a package throughout the State of Michigan, give financial support to festivals and incubate new festivals. It was proven in communities around the country that festivals can draw attention to downtowns and spur interest in their revitalization. GFAC founded the Tunes At Noon Festival and helped the establishment of the Memorial Day Festival, Folk Music Festival, Flint Film Festival and Summer Theater Festival. With the expansion of the summer festival season and the continual growth of the ARTWALK program community attention turned to downtown Flint. In 1999 the Parade of Festivals project began with a partnership between 7 festivals. In 2011, the Parade of Festivals partnership had grown to 20 festivals.
Opportunities to respond to the needs of the community began to pour in. Since the reorganization of the Michigan Council for Arts and Cultural Affairs (MCACA) by then Michigan Governor, John Engler, our CEO, Greg Fiedler noticed that Flint was not receiving an equal portion of the State funds in comparison to other similar cities. He inquired to the MCACA staff and the Senior Program Officer, Ed Nelson came to Flint for lunch. As a result of Mr. Fiedler's inquiry Mr. Nelson did some research and found that Flint was not asking for enough of the State funding and that is why they were not receiving more. Mr. Fiedler made arrangements for a special MCACA workshop to be held at the Anderson Room in the Flint Institute of Music. Thirty Five arts and cultural non-profit organizations were represented at the workshop. MCACA staff were very helpful in suggesting which categories each agency should apply for. As a result more funding was awarded to Flint agencies in the next granting year (FY 1999) and all three of the Cultural Center organizations, Flint Institute of Music, Flint Institute of Arts and Flint Cultural Center Corporation were accepted as Anchor Organizations. This was a permanent honor which allowed each organization to ask for up to 10% of their budget annually.
In 2000,incelebration of the millennium, the GFAC public relations committee formed a partnership with seven arts agencies in and near downtown. We started the famous Flint ARTWALK. Flint ARTWALK gained a national recognition and has done more for the growth of downtown Flint than any other program. ARTWALK is produced monthly and now includes 22 locations offering exhibitions, poetry readings, music performances and local artists vending their original works.
In 2002, GFAC stepped up to lead a Community Cultural Plan. Consultants, Morrie Warshawski and Sue Wood were hired to manage the project. Representatives from more than 100 arts/cultural agencies participated. The first year of work produced a comprehensive assessment report entitled Forging Links. This was followed in 2004 with the publishing of Flint's first Community Cultural Plan. Implementation of the plan produced some positive innovations including the community-wide event website: geneseefun.com, part of a national network called "Artsopolis."
When local promoter Joe Freyre, who produced the Flint Jazz Festival for 19 years called GFAC and told us he was having health issues and needed help to produce the festival, GFAC hired local promoter Clyde Lee of Flint to work with Mr. Freyre to insure that the 19th Annual Flint Jazz Festival would take place. A year later in 2000, on the 20th Anniversary of the Flint Jazz Festival, Joe Freyre had a stroke and was completely unable to work. He asked GFAC to take over the festival and make sure it survived for years to come. GFAC has now produced the Flint Jazz Festival for twenty one years. We celebrated the 40th Anniversary in 2022.
When the City of Flint was declared bankrupt and taken into receivership, GFAC took over the management of the Flint Fourth of July Festival in 2003 to improve the morale of a community in despair. We continued to host this festival for five years, until it was adopted by the Flint DDA.
In 2003 Buckham Gallery lost their funding from the Michigan Council for Arts and Cultural Affairs. GFAC immediately came to their aid. GFAC President and CEO, Greg Fiedler joined their Board of Trustees, helped them secure funding for reorganization from the Charles Stewart Mott Foundation and invited them to be a partner in the GFAC Annual Art Auction known today as the Cool City Art Auction.
GFAC was approached by local film makers in 2001 who said the needs of local film makers were not being met and asked GFAC to start a local film festival to draw attention to the art and to unify local film makers. GFAC accepted the challenge and in 2003 produced the First Annual Flint Film Festival. Three groups of local film makers served on the planning committee the first year including Equinox Productions, Fifth Sun Films and Blackmore Productions. GFAC produced this festival for three years until the planning committee decided to take it to the next level – independent.
In 2006 the Buckham Alley Theatre (BAT) lost their home when their landlord sold the property to a new company. GFAC took BAT into our building providing storage, office and rehearsal space. We helped them find performance spaces and helped them secure funding from the Ruth Mott Foundation to help with their reorganization. Three years later we still seek a permanent affordable performing space for BAT. At the present time they are stable, have built up a small reserve cash account and are producing quality theater. Their recent production of "Escanaba In Da Moonlight," a BAT favorite, had a successful touring run to four communities including Holly, Durand, Almont and Frankenmuth. Their most recent production, "Driving Miss Daisy" was produced in the GFAC gallery in May, 2023.
In 2007 Red Ink Studios and Art at the Market approached GFAC requesting consultation in fund raising. We asked both of them to become a partner in our Cool City Art Auction. This not only provided them with funds immediately but also walked them through the process of producing a fund raising event. With this knowledge they would be able to design and implement their own future fund raising events.
Our strategic Plan in 2008 planted the seed for our current marketing theme: WE GROW THE ARTS! We received a grant to pay for consultants to launch a capital campaign to finish renovations to our building. The recession came and the market crashed before we could launch and we had to cancel our plans.
GFAC invited the youth arts group in downtown Flint, the Creative Alliance to join the Cool City Art Auction in 2009. It became their best fund raising event to date. The auction increased to 5 locations making it similar to ARTWALK in it's format, gaining in popularity.
GFAC began an in-house business for the production of public art for corporations and other organizations. In the past decade GFAC has commissioned more than 100 works of public art in corporations throughout Genesee County. The Ruth Mott Foundation enlisted GFAC to design and implement a summer outdoor sculpture program at the Charles Stewart Mott estate, Applewood. The project, Art In The Gardens, became an annual program. Michigan artists apply to show their work on the estate from May to October. The proposals are juried and the selected artists are paid a stipend for displaying their work.
In celebration of the 30th Annual Flint Jazz Festival in 2012, GFAC formed a partnership with downtown restaurants and pubs and the Flint JAZZWALK was born. Mulitiple venues showcase live jazz by local musicians. It became a monthly event on the 4th Thursday of each month.
In 2012, GFAC incubated a new festival called "DROP FEST." This is an electronic music festival that emulates the Detroit festival in Hart Plaza.
In 1997, Flint lost their public radio station when the Flint Board of Education sold it to a private broadcaster. We were without local public radio for 15 years. In 2012, GFAC was able to secure an LPFM frequency from the FCC and established "Flint centered public radio", WFAH (Where Flint Arts Happen), 102.1 FM. In 2022, we added a live stream from our website, making the station available throughout the world. We are able to track listeners from 56 countries.
In 2013 GFAC partnered with the City of Flint to incorporate a Community Cultural Plan into the city's Master Plan. This collaboration was funded by the National Endowment for the Arts.
In 2014 GFAC provided funding to incubate the first Bluegrass Bazaar Festival at Kearsley Park.
Parking can be a problem most downtown areas. In 2017, GFAC was able to purchase a paved lot in the alley directly behind our building. There is space for 36 cars. This has made weekday programming and visiting our gallery space more convenient.
In 2018 GFAC played a major role in getting a millage passed in Genesee County to help fund arts and cultural organizations. The millage brings in more than nine million dollars to arts organizations in Genesee County annually. GFAC receives $500,000 annually for a grant program to fund small arts agencies. We are able to fund 20 to 25 organizations with grants averaging $25,000 each year.
In 2019 GFAC began work on an arts legacy program to increase endowment funds. A committee of the board and our Development Director, Tanya Lane created our "Leave and Arts Legacy" program. In 2022, GFAC President, Greg Fiedler established a new non-profit, "The Foundation for Greater Flint Arts Council." This new entity can accept gifts of any size and will act to oversee the investment of funds from our legacy program and make allocations as needed for the advancement of our mission.
In 2022 GFAC was awarded a RAP grant from the Michigan Economic Development Corporation. This grant is for the renovation of the remaining three floors of our building from storage space to usable space for the visual, performing and literary arts. We are currently securing matching funds to make this dream a reality. The additional 16,000 sq ft of space will give us a total of 22,000 sq ft. We currently have a 4,000 sq ft gallery space. The additional space will include a small theater, rehearsal space and flex space for artists to use as needed.
In 2023, our President and CEO, Greg Fiedler is celebrating 30 years as our leader.
The future of GFAC will see us responding to the needs of our community members for spontaneous opportunities for creativity…what we call emerging arts. We believe that emerging arts can transform our community and we can create an atmosphere where the arts can emerge.